A Night of Laughter and Unforgettable Moments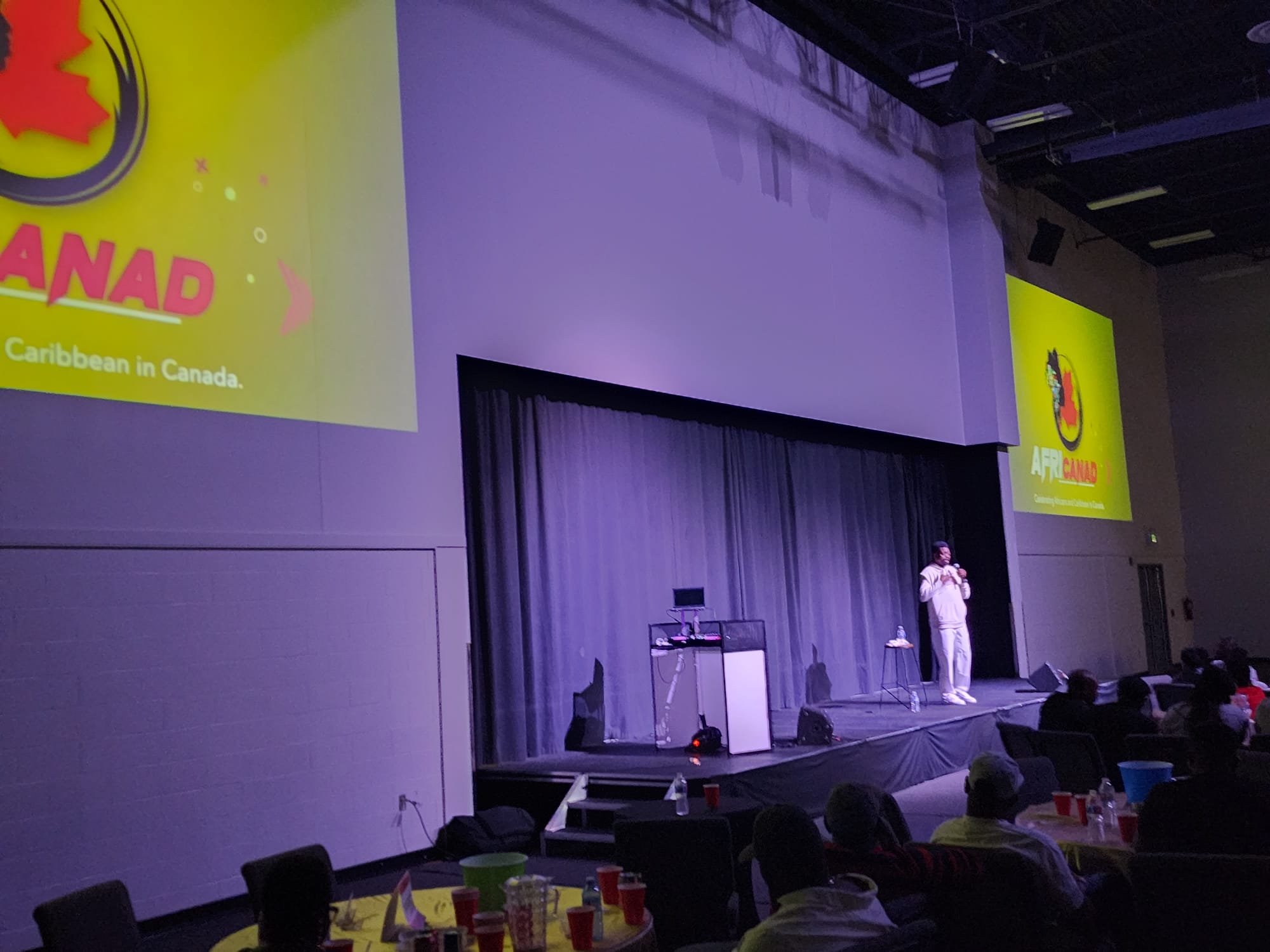 On Saturday, June 24th, Winnipeg was set ablaze with laughter as the comedy maestro, Basketmouth, graced the stage with his uproarious show, "Basketmouth UNPROVOKED." Fans of Basketmouth and comedy enthusiasts from Winnipeg and nearby cities were treated to an evening filled with side-splitting laughter, clever humor, and memorable anecdotes.
Basketmouth, a multi-talented individual renowned as an actor, musician, producer, and one of Africa's most cherished comedians, effortlessly stole the spotlight. With his magnetic charisma and exceptional comedic skills, he instantly captivated the audience, ensuring an unforgettable night of entertainment. The success of the show was made possible by the unwavering support of fans, audiences, supporters, sponsors, and collaborators who came together to create an extraordinary event.
Mr. Oderinde Qasim Abiola, the visionary CEO of Hunter Promotion, one of Canada's prominent Nigerian brand promoters, expressed heartfelt gratitude to the people of Winnipeg for their overwhelming support. He also extended appreciation to Africanad, a Winnipeg-based promoter, and other invaluable contributors who played a pivotal role in ensuring the show's resounding success.
The June 24th performance served as a makeup show for those who missed the initial June 18th show, giving them the opportunity to experience the laughter-filled extravaganza firsthand. Basketmouth commended the patience and understanding of his Winnipeg fans and wholeheartedly encouraged them to continue supporting his brand. He vowed to deliver unparalleled experiences in the future, promising Winnipeggers nothing short of the absolute best in comedy entertainment.
The festivities continued at Winnipeg's prestigious Infinity Lounge, where the after-party, expertly organized by ROADMAANN PROMOTIONS, added an extra layer of excitement to the night. The combination of exceptional comedy and an electrifying atmosphere left attendees buzzing with joy and fulfillment.
Africanad Media, with a strong focus on celebrating African arts, music, and multiculturalism, expressed gratitude to everyone involved in making Basketmouth UNPROVOKED an astounding success. As a Winnipeg-based brand, Africanad is committed to supporting promoters who bring exceptional African artists to our city, showcasing the rich diversity and talent within our community. The collaboration with Hunter Promotion on the Basketmouth show exemplifies our dedication to highlighting the vibrant cultural tapestry of Winnipeg.
Looking ahead, Africanad Media is thrilled to announce the next comedy extravaganza coming to Winnipeg on July 23rd: AY LIVE IN WINNIPEG. Save the date for another unforgettable night of laughter and entertainment, featuring AY, one of Africa's most brilliant comedic stars. Stay tuned for further updates and exciting announcements as Africanad continues to promote and uplift Winnipeg's dynamic cultural landscape through the power of laughter.
Explainer: Africanad Media, a Winnipeg-based brand, proudly supports promoters who bring outstanding African artists to our city. Our mission is to celebrate the incredible arts, music, and multiculturalism that make Winnipeg truly exceptional. Through collaborations with esteemed promoters like Hunter Promotion on events such as Basketmouth UNPROVOKED, we strive to showcase the remarkable talent and diversity within our community. Join us as we bring the finest African comedic acts to Winnipeg, spreading joy and fostering a sense of unity through laughter and entertainment.